Irish Gifts
Sustainable Irish Christmas Gifts
Shop now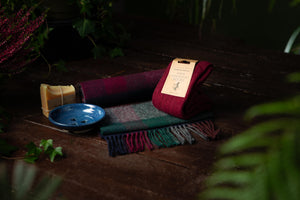 A collection of crafts from small Irish makers and eco-conscious crafters
Welcome to Foxy and Green Gifts, A Crafty Little Find, captures our commitment to handcrafted, small-batch, and sustainably made Irish gifts and each gift tells a unique story.
We work with community-based crafters and makers, appreciating the unique touch of each creator, to bring you something slightly different.  We ensure that every gift is subtly distinct, making each little find not only special but uniquely yours.
Foxy's Blog
The Art of Handmade Soap: Benefits of Using Handcrafted Soap
This summer, at the Claregalway Garden Show, I discovered Soap Naturally and Kasha's handmade soaps. I discovered the heart of handmade soap-making is the cold-process method, a traditional techniq...
Read more